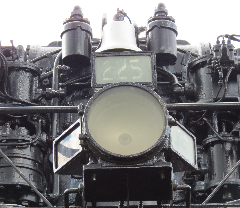 Dear Members,
Once again I am pleased to announce that we have been awarded another Legacy Grant. The grant is for an architect to do an accessibility assessment. This in turn will lead to an accessibility plan which we can use to reapply for a grant to make the Museum handicap accessible. This is especially important as so many of our seniors find it difficult, if not impossible, to navigate the numerous stairs required to get in, but then to move between floors once in the Museum.
Once again, I want to remind you these grants may not be used for operating expenses. Currently, we are operating in the black but there is possibly of a short-fall as we get close to the end of the fiscal year in July. We are working diligently to keep this from happening. I have been examining the books going back to 2001 through 2009 and then from 2013 forward in order to get some perspective of our financial health. I was surprised by my findings for the year 2001 through 2009. The average yearly income was $986. If you remove the highest two years' income, the average drops to $624 per year. Five our of those nine years, PAHS ran in the red in spite of having no fixed operating expenses, as the Museum was in the Community Center during those years where the City of Proctor paid for the utilities.
Currently, our monthly expenses are larger than the average annual income for the years 2001-2009. Our yearly fixed operating expenses are currently larger than the total combined income for the years 2001-2009. Establishing the Museum in a permanent home of its own brought along with its significant commitments to the community, which must be met.
Fortunately, our income has increased significantly from 2013-2016 with our average yearly income of $23,000. About half of that comes from grants which cannot be used for operating expenses but are important to our continued improvement in services.
In 2013, our debt was approximately $97,000 — it currently stands at approximately $46,000. In March of 2018, $20,000 of that will be due as a balloon payment to the City of Proctor. The Board and I are working on how we are going to meet this obligation. I am confident, given the talent on our Board, that we will find a solution.
Sincerely,
Ján Resberg, President
Proctor Area Historical Society