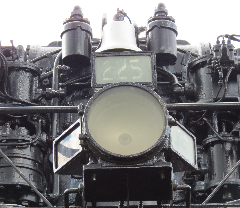 Mural in the Museum
We have discovered the identity of the artist who painted the large mural currently in the Museum. The artist is Hans Graeder who was born in Mannheim, German, in July 1919. He came to American in 1953. He became a citizen in 1958, returning to Germany in 1964. He lived in Rockfork, IL. He painted our mural, commissioned by the Charles and Phyllis Clover family in Proctor. The artist worked for Gannon Studios of Gannon Manufacturing. They were furniture makers and did work for McKesson & Robins Inc., a pharmaceutical firm in New York. The murals were designed to go behind pharmacy soda fountains. Hans died in February 1987 at the age of 88 in Mannheim, Germany.
Grants Completed
The library grant, the StEPs grant and the General Assessment grants have been completed and reports finished and submitted to MNHS Legacy fund.
New Grants
We are currently working on a grant, based on the Assessment Grant, to acquire some computers, a scanner capable of also doing scans of negatives to produce a finished photo. We are also looking at a camera to photograph the objects in our collection as we re-catalog the entire archives.
Missabe Railroad Historical Society to the Rescue
They offered to scan all of our large format items next year. They will come with their large scanner and say they can do everything in our flatbed files in a couple of days. Hard to imagine they can do it so quickly.
Christmas Is Coming
And we will once again be selling memorial light bulbs for the outdoor Christmas tree for $5.00 per name per bulb.
Christmas Exhibit and Open House
This year's Christmas exhibit will focus on Nativity sets. Exhibit opens December 4th with an open house and bake sale on Saturday and Sunday, December 16th and 17th. Tell your friends.
Model Train Update
The project is coming along. Thanks to generous donors, we now have models of the first five engines acquired by the DM&N. The 4-4-0
American, the Ten-wheeler, the 0-6-0 switcher, the 2-8-0 consolidation and the 0-8-0 switcher. We actually have two of the ten-wheelers. In addition, we have four DM&N single-sheated wooden box cars, which we almost didn't get.
Our big attraction of course is our Yellowstone 227, which requires a 72-inch curve to turn. We recently increased the size of the bench, which also increased our sorely needed storage space.
We are currently working on wiring for the track, followed by laying down and painting an inch of Styrofoam insulation board on the bench top followed by laying down the track. Then the serious modeling begins.
Ján Resberg, President
Proctor Area Historical Society